A set of 39 printable positive affirmation cards for anxiety
These printable affirmation cards for anxiety are intended to help you through challenging times, encouraging you to keep going, trusting that everything will be OK, and already is OK.
Printable positive affirmation card details:
A set of 39 printable positive affirmation cards.

The cards feature beautiful and unique art work alongside inspiring affirmations to help you through tough times.

These cards will be delivered to you as a digital download to print at home (no physical product will be shipped to you).

The cards can be printed at home on A4 or US letter sized paper.
39 positive affirmations for anxiety
These affirmation cards feature the following 39 affirmations for dealing with fear, anxiety and stressful, challenging times.
I allow myself to be held and supported by the earth and nature.

This too shall pass.

I did my best today and that's enough.

I breathe deeply and stay grounded in the present moment.

I let go of all fear.

I can relax. Everything is OK and always will be OK.

All of the changes that lie before me in life are positive ones. I am safe.

When things get difficult, I am strong enough to stay in the centre of the storm, facing whatever life throws at me, working through things with my inner-strength, calmness and courage.

I always honour the present moment.

Peace, clarity and calmness reside in the very heart of the storm. If I can withstand, perhaps even embrace the storm, I will eventually find my way to that place of peace and calm.

I have enough.

I trust in the flow of life.

When anxiety and fear start to creep into my mind, I withdraw myself from my thoughts. I stop to take in the sights, sounds and smells around me, as well as the silence and space between things. I ask myself if everything is OK right now, in this moment? The answer is always, "Yes, I am safe right now." Then everything slows down and I become calm.

I am enough.

When I feel tense I let go of my thoughts. I remember to relax all of my muscles, from heat to toe, whilst taking slow, deep breaths to ground myself into the present moment.

I have a special guardian angel. I am divinely guided and protected at all times.

I am so proud of how far I've come.

Entering situations that make us feel uncomfortable or afraid is the only way in which we can grow.

There is enough for everyone, including me.

I am steady and focused. I feel more secure each day.

I have the self-esteem, power and confidence to move forward in life with ease.

I choose faith over fear.

I let go of the need for control and trust that things will turn out for the best.

I let go of the need for perfection.

I trust that if I do my bestin any given moment, my life will unfold in perfect harmony. All of the things that are meant for me will come to me.

When life gets challenging, I keep moving forward, taking things one small step at a time.

The universe loves me and supports me in every possible way.

Whenever uncomfortable emotions arise within me, I pause. I place my hand on the part of my body where I feel the emotion the most. I acknowledge and accept the emotion, whilst directing slow, deep breaths to that part of my body.

I am the architect of my reality.

Angels, stars and the moon are taking care of me.

I am not my thoughts. I am the observer of my thoughts.

I am not my thoughts. I am the observer of my thoughts.

I am a magnet for miracles.

It is OK to ask for help when I need it.

I realise that stress is only fear. I now release all fears.

The moment I let go of expectations is the moment I become free.

I am unafraid of sharing my fears and anxieties. It is a sign of strength to do so.

I don't know what the future holds for me, and I am OK with that.

It doesn't matter what other people think of me. All that matters is what I think of myself.

I am fully surrendered to the flow of life.
Two print sizes included
You'll receive four high resolution PDF files:
1 PDF file with the cards, laid out 4 per page, for printing at A4 size.
1 PDF file with the cards, laid out 8 per page, for printing at A4 size.
1 PDF file with the cards, laid out 4 per page, for printing at US Letter size.
1 PDF file with the cards, laid out 8 per page, for printing at US Letter size.
Printing and cutting tips
To get the most out of your cards print them on high quality card - printing on textured card will look even better. For more tips on how to print and cut your printables please check out the article below.
Buy these cards on Etsy
These cards are available to purchase in my Etsy store. Please click the link below to view the cards on Etsy.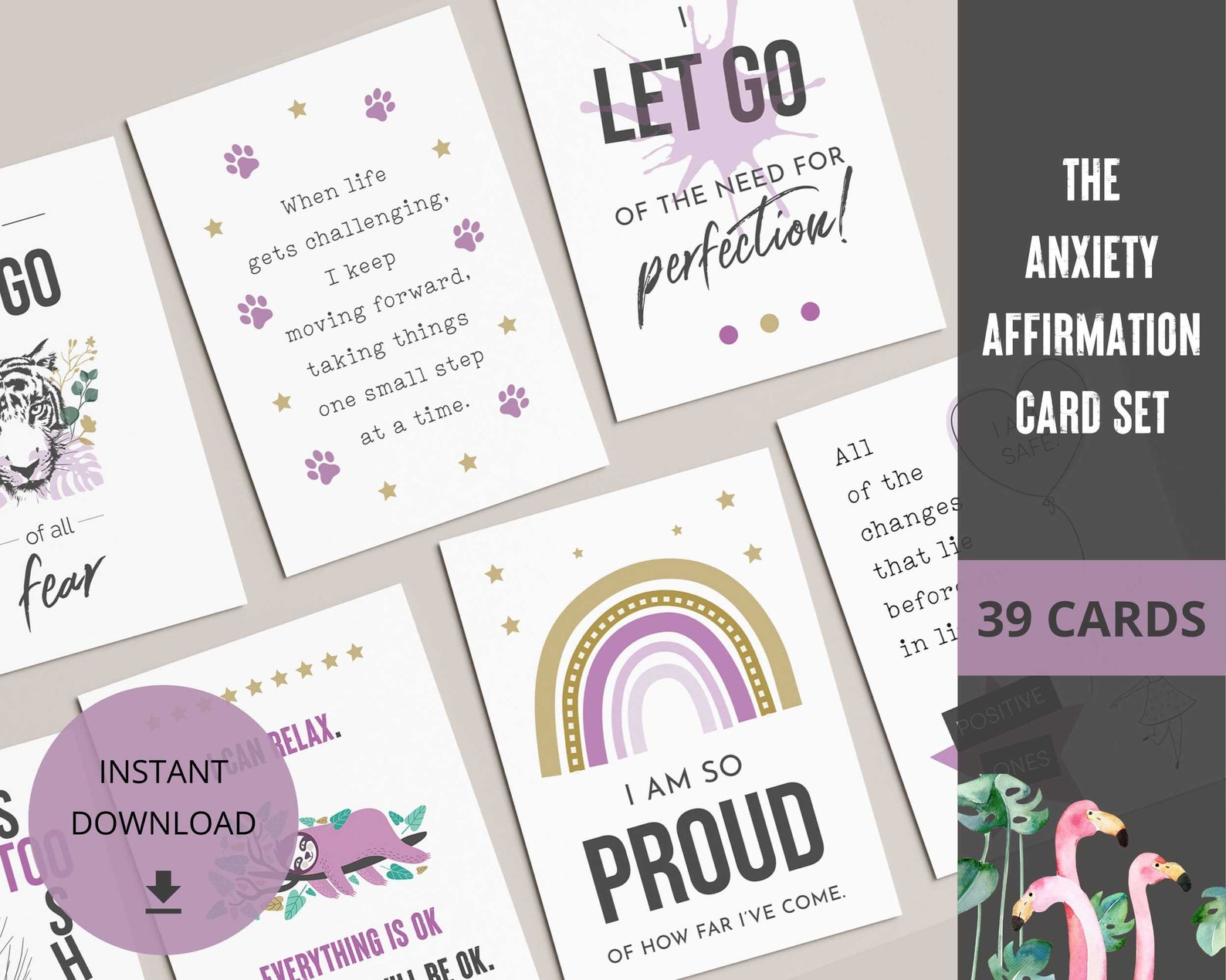 You may also be like...
Comments
Sign in or become a mystrongestself.com member to join the conversation.
Just enter your email below to get a log in link.